Nigo Biography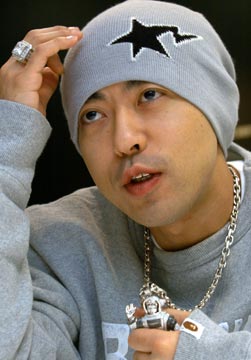 Nigo real name Tomoaki Nagao was born on December 23, 1970. He is a Japanese music producer, DJ and the founder and owner of the popular urban clothing brand A Bathing Ape also known as Bape for short.
Nigo studied fashion editing at college and he worked as an editor and a stylist for Popeye magazine. On April 1, 1993 he opened a t-shirt store he named "Nowhere" in Harajuku, Tokyo.
Nigo created his own brand and named it after the 1968 film Planet of the Apes. According to him, the name "A Bathing Ape" (which is now known Bape for short) is short for a Japanese saying "bathing in lukewarm water".
To get the word out about his brand Nigo produced 30 to 50 shirts a week, selling half and giving the other half to friends. Pharrell, Kanye West and other popular Rap artist started to wear the brand and that's when Bape started gain much more popularity in Japan, North America and ultimately around the world.
Nigo is also now the co-owner and head designer of Pharrell Williams clothing line called Billionaire Boys Club.
Nigo has now expanded the Bape brand and ventured into other business operations such as Bape Cafe, Bape Cuts and more.
Nigo and Pharrell Williams