Buy Bape Hoodies (Bape Hoodies Real or Fake Guide)
Bape is popular for its hoodies, I can safely say that Bape is a competitive streetwear brand to others like Supreme and Yeezy. So, as far as Bape launches a new article it's a matter of time before you will start seeing the counterfeits. But don't worry, I have been there too, and figured out a few legit ways to spot fake hoodies.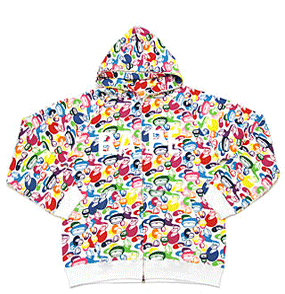 How to spot fake Bape hoodie
Hoodies are undoubtedly the most popular clothing product of Bape. I have seen even clones identical replicas in the market, scamming people. However, Bape is a registered trademark and if you look closely at the following details you will see a visible difference between authentic and fake clothing.
Neck Label
A Neck label is the first step whenever I shop for Bape hoodies. Fake ones are on par with the original stitching and logo embroidery. So, if you are encountered an average-quality fake neck label is an instant check.

However, in a market full of fakes you need to analyze the tag for every minor detail. For example, a visible and easy-to-catch point I found is the "ape" logo. The original one has a beige color and very fine embroidery. The next main reference is the text, focusing on the 1993 font. The original one has a consistently thin font, whereas fake hoodies have an inconsistent rather bold font with less spacing.
Wash Tag
I have a couple of Bape hoodies and wash tag printing fades away with use it has a very particularly thin font and even the tag quality is porous. Which is the reason ink fades away gradually. On the other hand, the fake one has thick printing identical to a brand-new Bape hoodie.

So how are you gonna know? The answer is simply to analyze all the areas of attention with respect to the previous one. Check for the neck labels, then wash tags you will start noticing a neat pattern of fonts on the original.
Golden Tag
This will be the most reliable and perhaps quickest way to spot fake Bape hoodies. All the Bape clothing has this "Golden Tag" featuring a blingy golden ape logo. The original Bape hoodie's gold tag will be smooth and the logo is neat all speaking up quality. And the fake ones will never have identical golden tags due to copyright.

But here's the thing, if I was buying a Bape hoodie for the very first time the chunky golden and shiny fake golden tag would have got me. The fake golden tag's ape logo is not clearly visible on any quality replica. The authentic one is blingy yet subtle and of very fine quality with a distinctive ape logo embroidered.
Zippers
All Bape hoodies feature high-quality YKK zippers. I have seen fake YKK zippers many times on different replicas. Bape hoodies have " Bape" engraved on zippers as well. Which can be copied with identical metal zippers.

So here you need to focus on the engraving of "Bape" and zipper quality. Original hoodies will have high quality easily readable engraving with wide and bulky zippers. Fake hoodies tend to have narrow ziplines and relatively smaller zippers.
Text Patch
Text patches are common on many Bape hoodies. World Gone Mad (WGM) is a Bape slogan. Authentic hoodie's embroidered text patches have a specific pattern with "G" standing out with perfectly aligned letters and stitching.

Low-quality fakes will have so many imperfections making them easy to spot. However, as I said earlier replicas are getting serious business. Many factories do try to get near an identical finish. But if look closely, you will notice a rough stitching finish, letters not aligned with each other, and text patches appearing different from each other.
Sleeve Tag
The sleeve tag features a grainy yet visible ape beige logo. Also, the sleeve tag stitching is very neat. I have majorly seen fake hoodies with low-quality sleeve tags. Which makes it another easy spot to identify fake Bape clothing.

The fake hoodie's sleeve tag has an aggressive pattern which almost distorts the original logo. And the color is also not beige. Sleeve tags are often ignored but I will suggest always analyzing them along with other factors.
How much does a real Bape hoodie & shirt cost? (cheap or expensive?)
Real and authentic Bape hoodies cost around $200 to 550$. Bape hoodies are definitely on the expensive side due to it's quality and high demand from all the Bape heads.
Where to buy real and authentic Bape hoodie
As with Bape Shoes the best way to buy authentic Bape hoodies, Shark and Tiger Bape hoodies, Baby Milo etc. is through eBay.
Pondon store probably has the most in stock and choices but don't forget to check out Pondon, happyjagabee, hamana_derec09, Tokyoape, snooooozer. stores as well, they might have limited choices but you might find what you want in their stores.
View Bape hoodies from happyjagabee
View Bape hoodies from hamana_derec09
View Bape hoodies from Tokyoape
View Bape hoodies from snooooozer
Remember that this sellers will NOT sell you "FAPES"! All Bape / Baby Milo Hoodies are brand new unless noted otherwise. I'm always searching for new and legit eBay Bape sellers so make sure you check back often!
DO NOT procrastinate if you want to buy any Bape items, all items are limited in quantity and will sell fast! This is Bape we're talking about here :)
So I have summed up all the tiny details to analyze and spot fake Bape hoodies. Once you experience these flaws in the person you will be a pro at it. Hopefully, our guide on spotting fake Bape clothing helped you. Happy shopping.
Bape Hoodies eBay Auction
Shop Other Bape Products:
- Bape Shoes
- Bape Hoodies
- Bape Shirts
- Bape Jackets

Is your Bape authentic? Don't get scam! Find out if they are by reading this article.